product information
Fineart Paper
Pigment print on Epson Traditional Paper
Digraphie® - Pigment print on Epson Traditional Paper
Digigraphie® refers to a printout on high-quality, certified premium fine art paper on professional Epson professional printers with the UltraChrome® ink technology.
The Epson Traditional Paper offers exceptional black/white reproduction and at the same time perfect colour reproduction with a large colour space. The surface has a smooth satin finish.
The Digigraphie® process is used internationally by photographic artists and museums to create limited, certified editions of their artwork.
Urgent recommendation.
For our pigment prints on Epson Traditional Paper, larger than 60 x 40 cm I recommend professional framing. For this purpose, the picture should be mounted by machine, clean and free of bubbles, on a firm carrier plate. You should order this framing at your local specialist company.
We send the larger formats of the pigment prints protected in an appropriate shipping package. Please open this packaging only on the work table of your framing company, so that your personal art object is not damaged.
Due to the enormous variety of different frame offers, I do not offer picture frames myself.
For prints without frames, Alu-Dibond is an excellent choice.

Alu-Dibond
UV direct print on metallic Alu-Dibond
UV direct printing on metallic aluminum dibond - a puristic refinement!
Your personal photo artwork floats on your wall!
The modern design of a photo on aluminum dibond fits perfectly into any room - the motif becomes a visual highlight.
Your personal artwork emphasizes the personal component in your private living ambience, modern and timeless! Weather-resistant UV - print on an aluminum composite panel (aluminum dibond) with metallic, silky gloss surface. White, bright areas in the image are reproduced metallic and change depending on the viewing position - the image lives.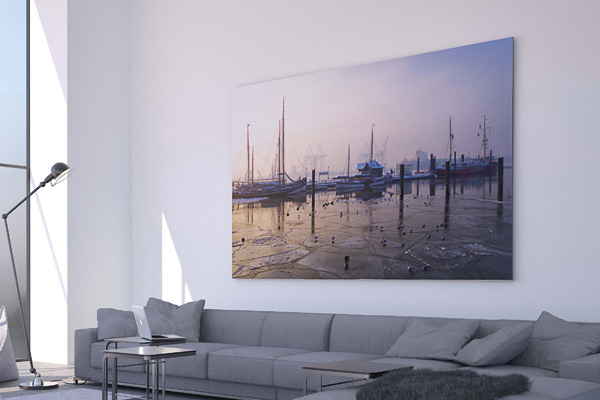 This high-tech - process works with 6 colors, prints very detailed and creates a wonderfully even color saturation.
The colors are cured with UV light. The UV printing on aluminum dibond is relatively insensitive to moisture and heat influence.
The colors are protected against fading.
Each print is authenticated with number and signature.
Rear circumferential stable aluminum profile frame 20/20 for suspension.
Each side 10cm indented, wall distance 20mm, incl. compl. suspension set with eccentric washer, dowels, screws.

Fineart Paper on Alu-Dibond
Epson Traditional Paper, mounted on Alu-Dibond board
Digraphie®, Epson Traditional Paper, mounted on Alu-Dibond board
Digigraphie®, i.e. the printed Fineart material is laminated onto an Alu-Dibond carrier plate, i.e. glued flush and over the entire surface.
To protect your work of art from damage, it can be covered with a UV-protective film on request. This provides effective protection against UV radiation, fingerprints and at the same time an impressive optical effect.
Stable aluminium profile frame 20/20 running around the rear side for suspension.
10cm indented on each side, wall distance 20mm, incl. complete suspension set with eccentric disc, dowels, screws.

Canvas
Direct print on photo canvas
Direct print on photo canvas - stretched on stretcher frame made of real wood!
Your personal photo artwork floats on your wall!
Your personal motif printed on canvas in an artistic look - like a real work of art gets her photo print through the canvas structure a very unique charm, creates a warm atmosphere for your living space.
Canvas pictures are a real eye-catcher, act on their own, without a picture frame.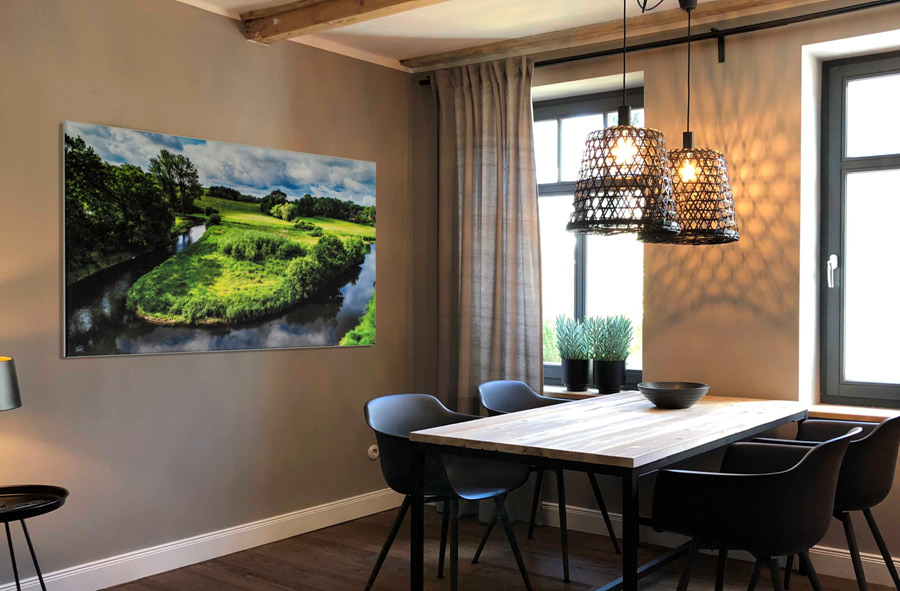 Your personal, selected motif is printed on high-quality canvas (360g / m²) and stretched on a stretcher frame ( 2 cm depth). The stretcher frame allows your image to hang comfortably on two nails.